An "Attribute" allows you to permanently store data. It might be a "score" or "health" or "damage" or "number of check-ins" or "number of votes" and so on.
There are 2 types of attributes:


Core Attributes are defined by Conducttr itself and cannot be modified. These are things like the audience's "First Name" and "Last Name".

Custom Attributes are those you can create yourself through the Attributes panel.

There are also "Variables", which store data temporarily, only during the course of processing the given trigger. When to use attributes vs variables?
In this article, we will be focusing on Custom Attributes and referring to them simply as "Attributes".
When you're creating an experience, you, the Author, decide which Conducttr entities need to store certain data. For example, if you want to award players points for checking in to a location, then it's the Audience that needs an Attribute to store the points. If you're going to count the number of check-ins at a location, then it's a location Touchpoint that needs to store that number in an Attribute.
Attributes are created and deleted via the Attributes panel - as shown below. To create an Attribute, you must first select the entity that's associated with the data you plan to save.

Attributes: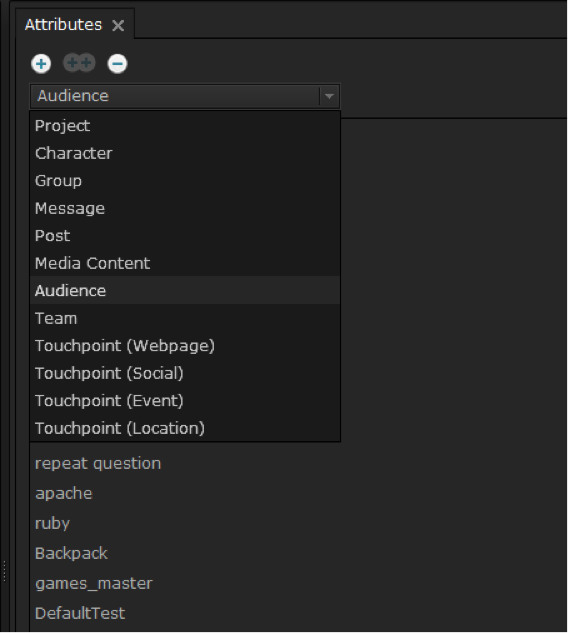 Below shows an Attribute configured for Content:


Technical Term - this is the unique term used by Conducttr. It's important to use this with Parsing.
Description - your explanation of the field
Data Type - this is the type of data you're going to save. For example, if you want to save a whole number (e.g. no numbers behind the decimal point) then select Integer - as shown in the figure below.

Configuring an Attribute:

To examine the currently stored values for an Attribute, look in the Attributes tab.
Attributes are in the Attribute tab: